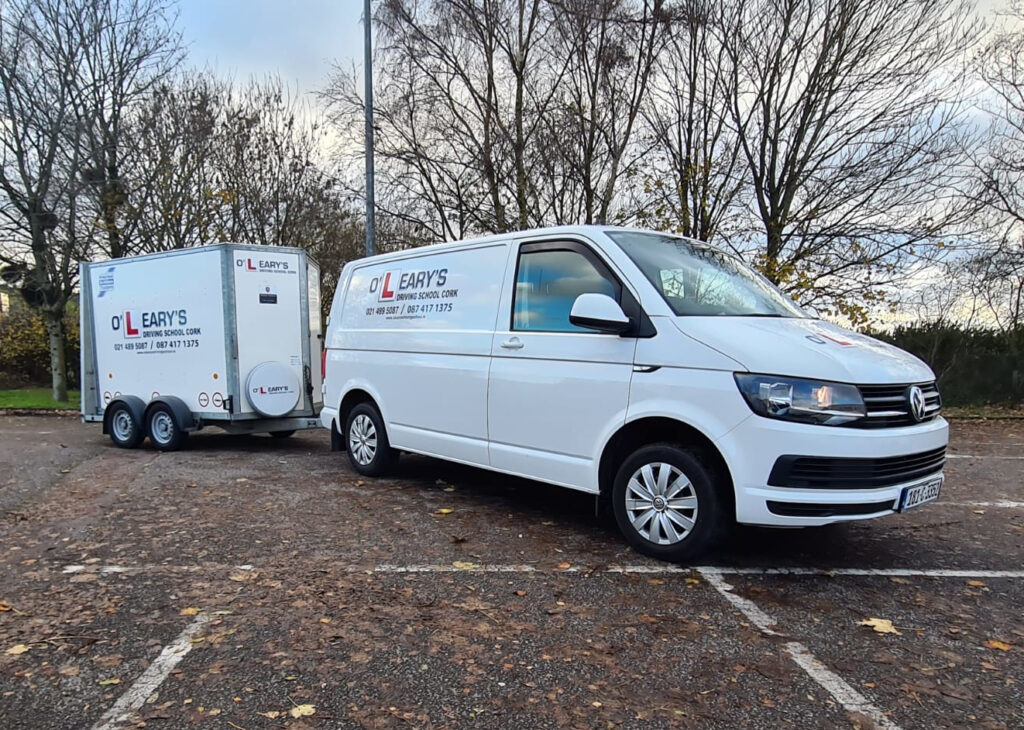 We pride ourselves on being one of the few registered driving schools in Cork to offer training for the Category BE licence. At present, we are also the only registered driving school in Cork with an off-road reversing bay similar to that of the RSA's for you to practice with. Whether you're a nervous beginner or a more confident driver, our RSA-registered and ADI-qualified instructors will help you to achieve your goal in a friendly, relaxed environment. You may choose to use our van and trailer for your driving lessons, or supply your own vehicle and trailer. Our van and trailer are also available to rent for your driving test. Our trailer meets all RSA regulations. Note that any trailer you supply must also comply with RSA regulations.
Prices
Using our van and trailer
1.5 Hour Driving Lesson
€150
Rent our van and trailer for your driving test
(1 hour pre-test lesson included).
€200
Using your own vehicle and our trailer
1.5 Hour Driving Lesson
€100
Rent our trailer for your driving test
(1 hour pre-test lesson included).
€100
Using both your own vehicle and trailer
| | |
| --- | --- |
| 1.5 Hour Driving Lesson | €80 |
Obtaining your BE Licence
In order to avail of our services you must hold a Category BE provisional permit. To obtain a provisional permit, you must have passed the Category B and Category BE Driver Theory Test with Prometric within the last two years. After passing the Driver Theory Test and obtaining all necessary documents, you must apply for a permit with the NDLS.
If you hold both a Category BE provisional permit and a Category B full licence, you may be eligible to take the RSA Category BE Driving Test.
For more information on obtaining a Category BE provisional permit and full licence, visit NDLS.
Vehicle Requirements
You must use a combination of a Category B vehicle and a trailer that does not fall within Category B.
The Category B test vehicle must be either (A): at least 4.25 meters long, or (B): a 4-wheel vehicle.
The trailer must have a gross vehicle weight of at least 1,400kg, but must not exceed 3,500kg, and must have an L plate displayed on the front of the towing vehicle and the rear of the trailer. It must have a sound structure and the breaking and lighting systems must be in correct working order. The registration plate must match the vehicle combination.
The cargo compartment of the trailer must consist of a permanent, closed-box body at least 2.4m long. It must be at least as wide and high as the motor vehicle. It is acceptable for the closed-box body to be slightly less wide than the motor vehicle, however, as long as the view to the rear is only possible by the use of the external rearview mirrors of the motor vehicle.
The real total mass of the trailer (its actual weight including its load) must be at least 800kg.
To achieve this, you must load your trailer with solid concrete blocks. For example, if the unladen weight of your trailer is 250kg, you will need about 30 solid concrete blocks (100mm x 220mm x 450mm), each weighing at least 19-20kg.
(30 solid concrete blocks x 19kg each) + 250kg unladen trailer weight = 820kg
The concrete blocks must be evenly distributed throughout the trailer to avoid overloading the trailer's individual wheels/axles or towing hitch. It is recommended that the nose weight be 7% of the trailer's laden weight to comply with the manufacturer and legal guidelines and provide optimal safety and stability.